Custom and Unique Epoxy Flake Coatings for Commercial and Industrial Floors
As the leading epoxy flake flooring coating contractor in Washington DC, Maryland and Virginia areas, Black Rhino Surfaces has flooring solutions that will impress clients. We can transform your plain concrete floor by creating a custom showroom finish that is durable and highly functional.

Call Black Rhino Surfaces today to learn more about your epoxy flake floor coatings options.

As your epoxy flake floor coating contractor, we have the experience to create a one-of-a-kind look for your business. Why opt for dull concrete when you can incorporate a variety of colors to elevate the aesthetics of your floors?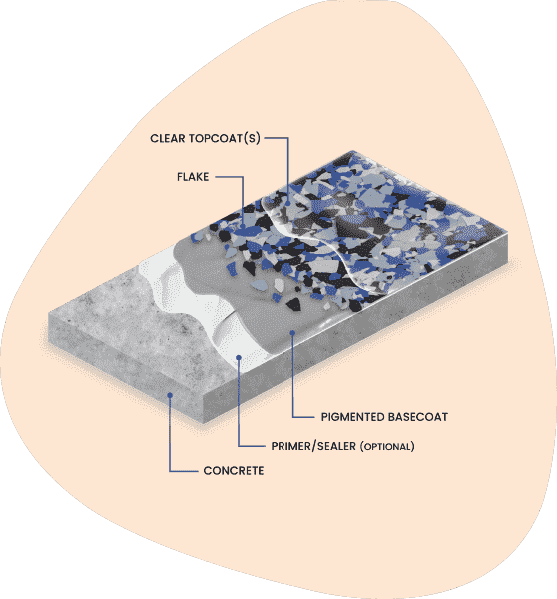 Why choose Epoxy Flake Floors Coatings?

Durable

Easy to maintain

Customizable

Highly functional

Simple to clean
Get a Free Estimate for your next Epoxy Flake Flooring Project
Whether you need a new floor for your office or warehouse, or are looking to upgrade your existing commercial floors, we have the experience and expertise to get the job done right.
Services
Concrete Flooring Services for the most demanding projects
Frequently Asked Questions About Heavy Traffic Floor Coating
Are there differences in size and color options when choosing Falke?
Generally, there are six standard size. They include: Original (1"), ½", ¼", ⅛",1/16", and 1/32".
What is the recommended size?
We typically recommend a ¼" system.
What color options are available?
Decorative flakes come available in many colors. Whether you're working on you garage flooring, commercial epoxy flooring, or flooring for a warehouse, there are no limits to what you can imagine. From simple one solid color for your garage flooring to multi color retail flooring solutions, you can incorporate colors from your wall finishes to your finish decor to create an enhanced look character to your area.
How much does the flake system cost?
There are some variables to consider. Single garage flooring with single color, or multi color warehouse color, the challenges of concrete level, size of the project etc., flake system costs about $3-$7 per sqft.
How much time does it take to install a typical flake system?
Our average normal installation for garage flooring normally takes about 2-3 days.