Durable, attractive and low-maintenance floors for offices and co-working spaces to compliment modern and contemporary aesthetics. Our professional epoxy flooring contractors work with leading design firms and builders to help create new or renovate offices that are future-ready. Get tailor-made solutions to suit your budget, timeline and design specifications. Contact us to get a free quote today!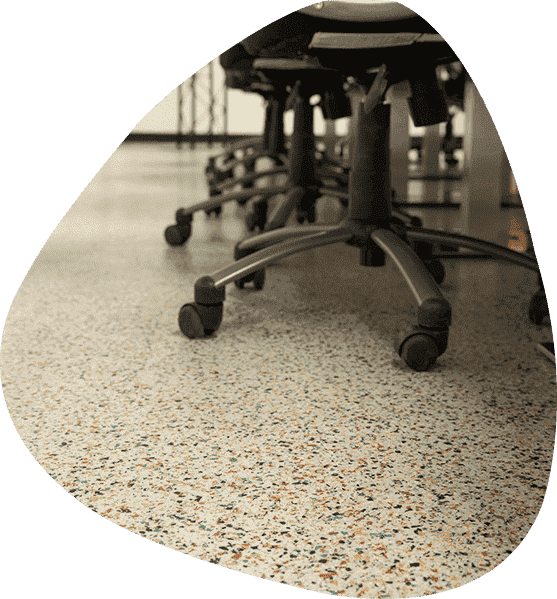 BENEFITS OF BLACK RHINO SURFACES FLOORING SOLUTIONS FOR OFFICES

Improved Aesthetics
Attractive finish options that will enhance the look of any office space.

Durable and Long-lasting
Durable and long-lasting, ensuring they can withstand the wear and tear of a busy office environment.

Easy Maintenance
Epoxy flooring systems are easy to clean and need simple repair, making them ideal floors for offices.

Enhanced Safety
With slip-resistant surfaces, epoxy flooring helps create a safer working environment for employees.

Improved Air Quality
Designed to improve indoor air quality, promoting a healthy and comfortable work environment.

Energy Efficiency
Increase in energy efficiency by reducing heat loss, improving insulation and reducing noise levels.

Eco-Friendly
Made with sustainable materials that have minimal impact on the environment.
Get a Free Estimate for your Office Flooring
Frequently Asked Questions
What makes epoxy flooring more suitable for offices as compared to other traditional flooring options?
Epoxy flooring is a low-maintenance and durable flooring solution that offers a range of benefits for office spaces. It's resistant to scratches, scuffs, and stains, making it ideal for high-traffic office spaces.
How long does an installation take?
The installation process for epoxy flooring typically takes 1-3 days, depending on the size of the office space. We will work with you to ensure the least possible downtime i.e. minimal disruptions to your office operations. To get a free
Is epoxy flooring a cost-effective solution for offices?
Yes, epoxy flooring is an economical choice for office flooring. It has a long lifespan and requires very little maintenance, which helps to reduce the overall cost of ownership.
Can epoxy flooring be customized to match your office's design scheme? 
Yes, epoxy flooring can be customized to meet the unique design requirements of your office. Black Rhino Surfaces offers a range of colors and patterns to choose from, and can even create custom designs to match your company's branding.
Is epoxy flooring easy to clean and maintain?
Yes, epoxy flooring is extremely easy to clean and maintain. Simply sweep and mop the floor regularly to keep it looking its finest.
How slip-resistant is epoxy flooring?
Epoxy flooring has slip-resistant properties and makes floors for offices safer, especially with high foot traffic.
Does Black Rhino Surfaces offer a warranty for epoxy floors for offices?
Yes, we offer a warranty for epoxy flooring in offices. The length of the warranty will vary depending on the specific flooring solution chosen, but we stand behind the quality of our products and services.
Services
Concrete Flooring Services for the most demanding projects