Commercial kitchens are an essential part of hotels and restaurants and the flooring they use is just as significant. Commercial kitchen flooring is durable and easy to clean and also provides a safe and slip-resistant surface. It has become the preferred epoxy flooring for many hotels, restaurants and commercial recreational facilities as it provides a wholistic reliability with pleasing aesthetics to match a property's decor.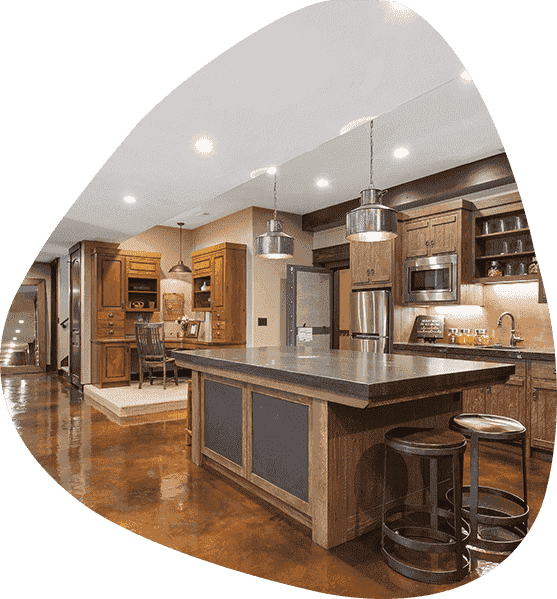 Benefits of Epoxy-based Commercial Kitchen Flooring

Durability
Epoxy flooring is known for its durability and can withstand heavy foot traffic, food and oil spills, heavy equipment and inventory movement.

Easy to clean
Epoxy flooring has a non-porous surface that makes it easy to clean and sanitize with just a vacuum and wet mop.

Slip-resistant
Epoxy flooring has a non-slip surface, which provides a safer working environment for your employees, reducing the risk of slips, trips, and falls.

Hygienic
Epoxy flooring provides a hygienic surface that is resistant to bacteria and mold, ensuring a healthy and safe environment for your employees and customers.

Aesthetically pleasing
Epoxy flooring is available in a variety of colors and designs, allowing you to choose a style that complements your kitchen's decor.

Cost-Effective
Epoxy flooring is a cost-effective solution that lasts longer than other types of flooring, meaning you won't have to worry about frequent repairs or replacements.

Versatile
Epoxy flooring can be used in various areas of a commercial kitchen, including walk-in refrigerators, food preparation areas, and even on the walls.
Get a Free Estimate for your Commercial Kitchen Flooring
Frequently Asked Questions
Can epoxy flooring withstand high temperatures in a commercial kitchen? 
Yes, epoxy flooring is heat-resistant and can withstand high temperatures which are a common requirement in commercial kitchens. It is also durable and stain-resistant, making it ideal for commercial kitchen flooring.
How long does it take to install brand-new flooring in a commercial kitchen? 
The true time estimate will depend on the size of the commercial kitchen and if a previous installation needs to be removed. With an experienced team of epoxy flooring contractors, the entire installation can be completed in less than a week. 
How much does commercial kitchen flooring cost?
The cost of commercial kitchen flooring largely depends on the size of the kitchen and the type of flooring you choose, and other factors. At Black Rhino Surfaces, we offer competitive pricing. Get a free estimate today!
Services
Concrete Flooring Services for the most demanding projects