Black Rhino Surfaces is your trusted partner with a team of construction professionals with seasoned experience in aircraft hangars across Washington DC, Maryland and Virginia region.
We work with all kinds of aircraft hangars including light/medium airplanes and choppers. Our goal is to provide you with a high-performance flooring system that ensures durability, and adds long-lasting value for your hangar floor.
Discover how our customized approach can elevate your airplane hangar floor functionality and aesthetics.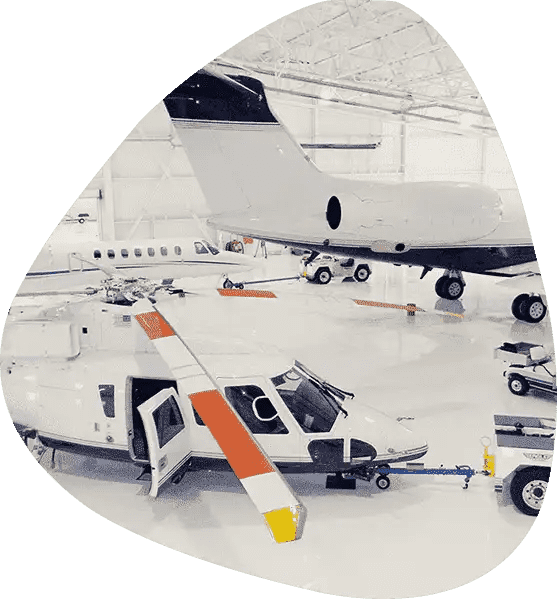 Understanding your Aviation Hangar
Our team of experts will thoroughly assess your aircraft hangar flooring needs and have your questions answered and suggest bespoke hangar floors designed according to the types of aircrafts, heavy equipment, foot traffic patterns, chemical exposure, weather and safety regulations.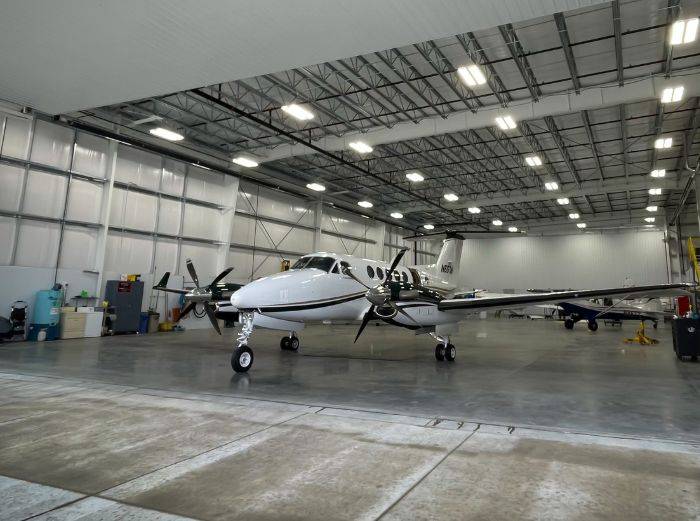 Our 7 point checklist for Airplane Hangars:
Space: Covered area and number of planes.
Time to maintain everyday: How busy is your aircraft hangar going to be.
Type of install: Wide variety of materials including.
Installation period to complete the aviation flooring
Parking of vehicles
Design Patterns or Company Branding/Logos
Additional Room Requirements for Office, Staff, Storage, etc
Based on our findings above, we provide a hangar flooring solution that is durable, resistant to chemicals (abrasion) like hydraulic fluid exposure or fuel spillage, can handle high volume of passengers foot traffic and is low maintenance to provide least downtime to the aircraft hangar operations.
Advantages of Epoxy Floors in Aircraft Hangars
We specialize in creating customized aircraft hangar flooring that are specifically tailored to meet your needs. Our commitment to delivering high-performance and durable flooring systems sets us apart in the industry.

Durable
Get a hangar floor which can withstand heavy equipment, spills, chemicals, rain, etc and is long lasting. The concrete substrate layering in the floors helps protect against aviation related hazards.

Cost Efficiency
One of the most cost efficient options for your airplane hangar floor, with easy maintenance and low floor repair costs ensuring long-lasting performance.

Chemical Resistance
Epoxy has a natural ability of being chemical resistant to spills, fluids, weather, small debris, etc ensuring durability for hangars with high traffic due to reduced abrasion by chemicals.

Aesthetic Appeal
The wide variety of epoxy coating can add to the aesthetic appeal of an aircraft hangar. The natural reflectivity helps make the hangar bright and increases visibility in any light.

Installed by Experts
Our team of experienced epoxy flooring contractors ensure an on-time project delivery of one or multiple hangars to ensure minimal downtime to your operations.

Floor Safety
With slip resistant properties which are crucial in the aviation industry for aircraft, equipment and personnel. It also helps your customers have a safe flooring all with an aesthetically appealing experience.

Shock Resistant
It is critical for an airplane hangar floor to have withstand sudden impacts, which the coating help protect the underlying concrete and minimizes the risk of damage to the floor.

Versatility
Custom branding options with your company's logo, colours or signage can be installed in the floor design making it a versatile option for the entire hangar.
Frequently Asked Questions
Can epoxy flooring be used in combination with other flooring solutions?
How much does an epoxy based floor cost?
The pricing depends on various factors. Contact one of our flooring experts to get a free quote within 1 business day.
What are the most common color options for aircraft hangar flooring?
Blue and Grey. You can create color combinations to match custom logos.
Is the flooring resistant to prolonged exposure to chemicals?
Yes, the flooring systems are tough and resistant to prolonged spills like chemicals, fluids, etc.
Which product manufacturers do you use in your aircraft hangar projects?
We use reputed manufacturers like Elite Crete Systems, Niagara Protective Coatings, etc.
How long does it take to install a new hangar floor?
The installation time varies depending on various factors like the size, weather, type of coating, etc. Typically 1-2 weeks unless we may need to extend due to bad weather.
Can you remove existing concrete and install a fresh flooring system?
Yes, absolutely! We can replace the entire or partial existing flooring.
What is the best way to clean the hangar floor?
Regular sweeping and occasional mopping with a pH-neutral cleaner should keep your hangar floors looking like new and extend its slip resistant properties and overall lifespan.
Are you certified by an aviation authority or government department?
We are reputed construction professionals and have all necessary permits to undertake such project. If you require specific permission or approvals, please contact us.
How does epoxy flooring compare to swisstrax tiles?
Swisstrax tiles are a competent option as they are ultra thick and can handle huge rollover weight but epoxy is a more seamless and cost effective option for larger aircraft hangars. Also cheaper maintenance costs compared to tiles.
Services
Concrete Flooring Services for the most demanding projects