At Black Rhino Surfaces, we understand the unique demands and challenges faced in a retail environment. We provide bespoke retail flooring solutions from small to large format retail stores.
Our team of experts work tirelessly to deliver high-quality, durable, and aesthetically pleasing flooring options that meet the ever-changing needs of the commercial industry. Our retail flooring solutions are designed to enhance the shopping experience for customers while ensuring a safe, clean and welcoming environment for employees.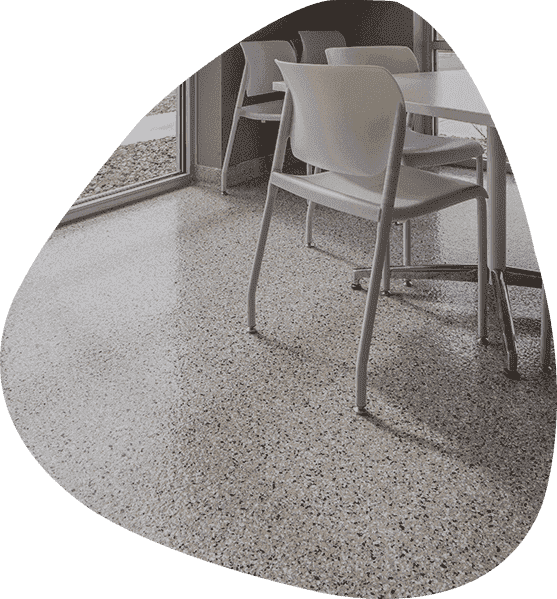 Benefits of Epoxy Based Retail Flooring Solutions

Increased durability and floor longevity

Improved appearance and aesthetics

Enhanced safety and slip resistance

Improved hygiene

Easy maintenance

Increased brand identity
Types of Flooring Options

Epoxy Flooring

Polyurethane Flooring

Decorative Flake Flooring

Quartz Flooring
Tips to select the right kind of Retail Flooring Solution

Durability
Durable retail flooring solutions are imperative as they can withstand high foot traffic and heavy equipment. A reliable flooring solution should be able to withstand everyday wear and tear, and last for years to come.

Aesthetics
Retail flooring solutions should not only be practical but also attractive. The flooring should complement the overall design of the store, and create an inviting atmosphere for customers.

Safety
Safety is a top priority in any retail environment. A suitable retail flooring solution should have slip-resistant properties to prevent accidents, and be easy to clean and maintain to minimize the spread of bacteria.

Maintenance
Retail flooring solutions should be easy to clean and maintain, as frequent cleaning and maintenance is a requirement in the retail industry. The flooring solution should be able to withstand regular cleaning and be free of scratches or scuffs.

Cost
Cost is an influential factor to consider when choosing retail flooring solutions. The solution should provide value for money, and be budget-friendly for retailers.

Environment
Retail flooring solutions should be eco-friendly and environmentally sustainable, as more and more customers are becoming conscious of the environment.

Compatibility
Retail flooring solutions should be compatible with the store's existing infrastructure, and should be able to fit seamlessly into the store's design and layout.
Frequently Asked Questions
What are retail flooring solutions?
Retail flooring solutions are flooring systems specifically designed for retail businesses to enhance the appearance, durability, and safety of the flooring.
What are the benefits of epoxy-based flooring solutions?
It increases durability and longevity, improves appearance and aesthetics, enhances safety and slip resistance, improves hygiene and easy maintenance, and increases brand identity as well as the customer's experience in the store.
What types of retail flooring solutions do you offer?
We at Black Rhino Surfaces offer epoxy flooring, polyurethane flooring, decorative flake flooring and quartz flooring.
How do I choose the right flooring design for my retail store?
To choose the right flooring solution for your retail store(s), consider factors such as foot traffic, budget, brand image, maintenance (downtime required), durability, style and design preferences.
Is it better to hire professionals to install new flooring or do it yourself?
Yes, it is critical to hire professionals for the installation of retail flooring solutions to ensure the proper and efficient installation of the flooring system.
What is the process of installation?
The process of installation of retail flooring solutions involves preparing the surface, installing the flooring system, and finishing the flooring with a protective topcoat.
Do you offer discounts for Franchise Stores or Multiple Retail Stores?
Yes, we can offer volume pricing based on the number of stores included in a single project. We also ensure standardized design and aesthetics to ensure all the stores have the same flooring design.
Services
Concrete Flooring Services for the most demanding projects