Epoxy flooring is a cost-effective way to protect and improve the appearance of your garage floor. This advanced coating is applied as a protective layer to your existing concrete floors to create a long-lasting and durable finish. It makes an ideal flooring for a residential or even commercial garage.
How to choose the right epoxy floor coating type for your garage
Epoxy floors are resistant to cracking, chipping, extreme temperatures, oil and grease stains, and wear caused by foot traffic over time. The epoxy also adds life to the surface, trapping moisture between the epoxy coating and the concrete surface.
Additionally, epoxy coatings come in various styles or colors so you can customize the look of your new epoxy coated garage floor with an array of waterproofed finishes that reflect light off its glossy metallic surface – this is commonly known as metallic epoxy flooring or metallic epoxy floors.
3 Main Systems of Epoxy Floors
There are three main types of epoxy floor coating: solvent-based, water-based, and solid epoxy floors. You can transform a dull gray garage floor into a vibrant and striking piece of art with these epoxy-containing products.
Epoxy flooring is not only aesthetically pleasing, but also provides extra protection for the surfaces beneath it. This layer makes it resistant to moisture, chemicals, water stains and other hazards.
The benefits of all three epoxy systems have been proven time and time again by those who have chosen to upgrade their existing concrete or garage with epoxy flooring. This makes it highly successful for industrial spaces as well as residential. Let's take a closer look at these types:
Solvent-based coatings
Solvent-based epoxy floor coatings have become increasingly popular for commercial and industrial applications. With their durable qualities, they can withstand heavy foot traffic, impact, and corrosion.

This makes it an ideal choice for auto-repair garages and other surfaces that experience high levels of wear and tear. Solvent-based floors also provide a glossy finish and non-slip protection, providing an aesthetically appealing look while ensuring safety during operation.

Containing two parts—a resin and a hardener— solvent-based epoxy flooring is known to be more efficient than single-part epoxies, mainly when it comes to tolerating temperature changes.

A solvent-based coating's main drawback is that it can be difficult to apply, so we recommend professional installation.

Considering all the advantages, solvent-based epoxy should definitely be kept in mind as an option when deciding on the appropriate type of epoxy flooring for any auto-repair garage.
Water-based coatings
Water-based epoxy floor coatings are a smart choice for an auto-repair garage floor because of their durability and performance. They produce an exceptionally strong and durable coating that is up to five times thicker than traditional paints.

Not only is the coating resistant to physical wear, it resists stains, chemicals, and oil, making it ideal for a workspace like an auto-repair garage with so many potential contaminants. Additionally, the coatings reflect light from overhead fixtures, helping to create a brighter work area that can improve productivity.

On top of all that, epoxy floors are extremely durable; with proper installation and maintenance, they can last for years without cracking or fading. All things considered, water-based epoxy flooring should be considered a go-to option for any auto-repair garage floor.

Their only downside is that despite being easy to apply compared to other epoxies, water-based coatings may not be as durable as solvent-based coatings.
100% solid epoxy coatings
100% solids epoxy floor coatings are particularly known for their high durability, making them the ideal epoxy type to consider when selecting a garage floor. This epoxy is designed to withstand any wear and tear that an auto-repair garage could put it through. They also allow concrete floors to get a sturdier and more hygienic surface as epoxy resists softening and spalling due to extreme temperatures and chemicals typical in garages.

Although these epoxies are more expensive than other epoxy options, they provide incomparable performance and may be worth considering if you have the budget for it. It's imperative to think about the space you're flooring and its size before making the investment, though, so make sure to compare different estimates from contractors' offers.
Which of these options is most eco-friendly and best suited to your needs?
Short answer: The most eco-friendly option is 100% solid epoxy flooring.
Solvent-based floors can sometimes be harmful to the environment, largely due to their use of organic solvents and their potential for leaching toxic byproducts.
Water-based floors are safer than solvent-based epoxy, however they still contain VOCs that can be harmful when released into the atmosphere.
On the other hand, 100% solid floor epoxies are the most eco-friendly option because they generally do not contain ANY solvents and there's no risk of leaching toxic byproducts into the air or ground.
As such, epoxy flooring is an effective way to protect and beautify your garage floor or concrete floor while still being mindful of the environment.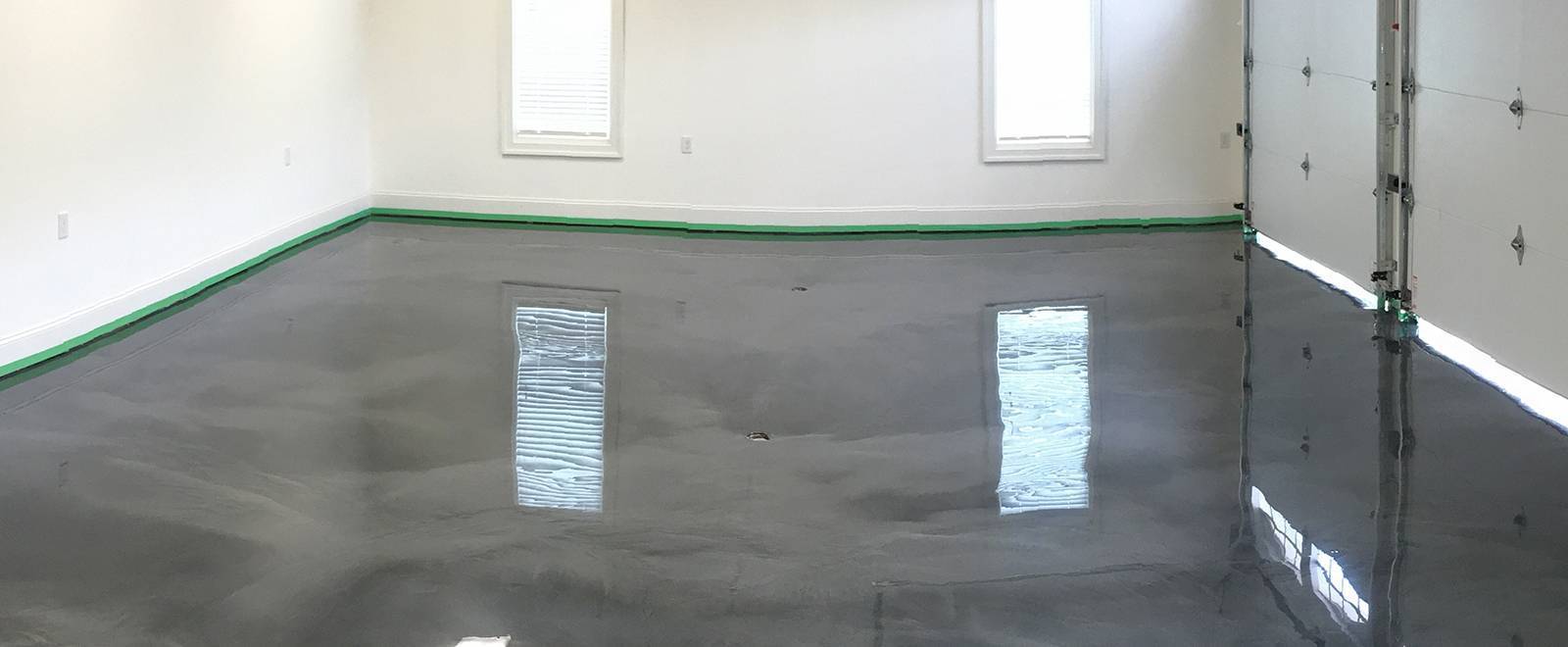 Maintenance Tips
Epoxy flooring is an excellent way for you to upgrade your garage floor. It provides a more durable, scratch-resistant coating that will last for years if properly maintained.
Regular cleaning and periodic touch-ups are key to keeping epoxy flooring in great condition, so you can continue to enjoy the benefits of epoxy's low-maintenance and appealing aesthetics. Knowing how to maintain epoxy flooring properly will help you get the most out of this smart investment. So what should you do?
Sweep or vacuum regularly to remove any dirt or debris
Maintenance is imperative in order to prolong the epoxy's life and to keep it looking its finest. Depending on the type of epoxy, the level of maintenance needed can vary.
Regardless of the type of epoxy used, however, regular sweeping or vacuuming is key to keeping them looking their finest. Sweeping or vacuuming these floors helps minimize unsightly footprints and shadows while simultaneously removing any dirt or debris that has become embedded in the epoxy.
Depending on how often you use your epoxy floor, such as a garage floor, regularly sweeping or vacuuming is an easy and essential task for keeping epoxy flooring in proper condition year after year.
Mop with a mild detergent and warm water – avoid harsh chemicals or cleaners
One key step to maintaining your floors is to routinely mop them with a mild detergent and warm water. Take care to avoid harsh chemicals or cleaners, as these can cause deterioration over time.
Regular weekly cleaning paired with drying mopping before you apply epoxy sealers will keep epoxy floors strong and looking their finest, well into the future.
Apply a coat of epoxy floor coating every few years to maintain its appearance and protect it from wear and tear
Applying a coat of epoxy floor coating every few years is paramount to proper epoxy floor maintenance. Without it, epoxy floors can quickly scar and degrade, particularly if they are located in high-traffic areas such as a garage floor. The epoxy coat acts as a barrier against scrapes, stains and spills.
Specifically designed epoxy flooring products might even include additional anti-slip surfacing to further protect the epoxy surface during particularly wet or icy conditions. Re-coating your epoxy floors not only keeps them looking gorgeous, but also dramatically increases their lifespan.
Repair any "simple" flaws quickly to prevent further damage
To make sure epoxy floors continue to look great and perform their job long-term, repair any chips, cracks, or scratches as soon as possible.
When these issues are not fixed quickly enough, epoxy floors can become vulnerable to further damage from chemicals, oils, impacts—basically anything that could leave an unsightly mark on the epoxy finish.
For epoxy coating to remain resilient, all chips, cracks, or scratches must be addressed promptly.e.
Keep pets and furniture away from the coated area
This is crucial since epoxy floors are normally installed in high-traffic spaces like commercial garage floors, workshops, cafes, restaurants, warehouses, and industrial concrete floors.
Pets and furniture can scratch and stain the epoxy coating, resulting in an unappealing – and possibly expensive – repair job.
When epoxy flooring is properly installed and maintained, epoxy flooring can provide a stylish, long-lasting solution for any space.
Place mats at all entrances
One way to maximize the longevity and shine of epoxy floors, such as garage floors and epoxy flooring on concrete surfaces, is to place mats at all entrances. Hard-surface epoxy can be the unfortunate target of outdoor elements like dirt, rain, snow and mud or indoor debris.
By placing entry mats at each entrance point of your epoxy flooring area, you create an effective barrier between entrance debris and the epoxy surface. This helps keep your epoxy floors clean.
These mats will prevent scratch or scuff marks from forming due to pesky particles. Investing in proper mat maintenance such as regular washing or changing them out regularly will help maintain epoxy flooring for years to come.
The benefits of using epoxy floor COATING for your garage floor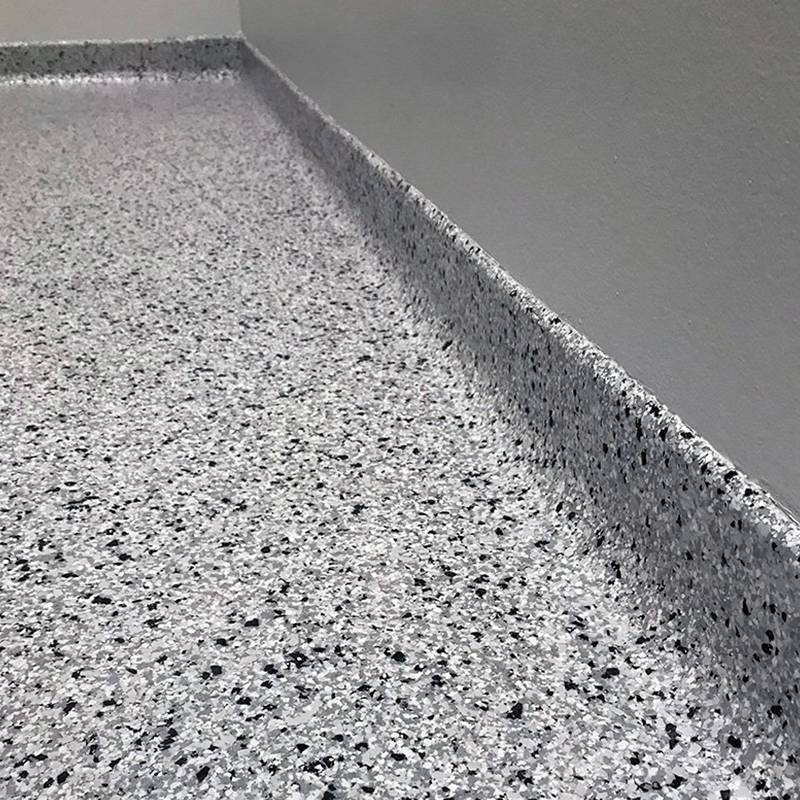 Polished concrete floors may seem like a smart choice for garage floors due to their durability, strength, and low-maintenance needs. However, epoxy flooring solutions are a much better choice. Epoxy floor coatings come in a variety of colors and finishes, making them customizable to match any desired aesthetic or style.
Additionally, decorative epoxy flooring is antibacterial due to its resin structure that prevents bacteria from penetrating its surface. By comparison, polished concrete can develop cracks or fissures over time. Cracked concrete can pit and trap bacteria that quickly spread throughout the garage. Bacteria can and will become increasingly difficult to eliminate. Therefore, decorative epoxy flooring is an ideal solution for garages, providing peace of mind against germs while looking stylish thanks to decorative chips too!
1. Durable and long-lasting
Epoxy floorings are durable and more resistant to scratches than many other types of coating. At around five times thicker than a standard epoxy/resin coating, epoxy floorings are one of the strongest, most abrasion-resistant options for concrete floor coatings.
These epoxy floors can last for over ten years in a home garage with limited traffic and up to 3 years in a factory or warehouse with heavy traffic. That makes epoxy the ideal choice for any space where durability is of the utmost importance.
2. Cost effective
Epoxy is the most cost-effective option for flooring, with epoxy flooring ranging from $2.5 to $8 per square foot. Other options, like urethane flooring, cost anywhere from $6 to $19, depending on the space that is being covered. The cost of tile flooring ranges from $4 to $10 for tile only. Other materials are needed to complete the project, so they are considerably more expensive.
Epoxy flooring doesn't require any special tools or equipment for the installation process, which makes their installation cost lower than other flooring options. After all, epoxy flooring installation is far easier than traditional polished concrete floors.
You also need to consider that garage floor epoxy is an investment for the future. They're long lasting and offer you a high return on investment.
3. They provide a slip-resistant surface that is safe for both drivers and mechanics
Epoxy flooring installation provides a high-performing and safe option for garage floors. Installed over concrete, epoxy is an ideal finish as it not only makes the surface slip-resistant but also offers protection from tire marks, chemical spills, wear and tear, and more.
4. Can be used to protect concrete floors from oil and gasoline spills
Mechanics can feel secure when working as epoxy flooring creates a non-porous surface that prevents oil seepage into the concrete below – a hazard that could lead to potential fires or accidents.
Additional features of epoxy flooring, such as resistance to mold and mildew, and its ability to withstand heavy loads make epoxy a versatile solution in any busy mechanic's garage.
5. Easy to clean and maintain, requiring only a light sweep or mop to keep them looking new
Epoxy flooring is an increasingly popular choice for those wanting a low-maintenance floor to spruce up their concrete or garage floors. Easy to clean and maintain, epoxy flooring only needs a light sweep or mop every once in a while to keep it looking as good as new.
Plus, epoxy's smooth surface keeps dirt and dust from settling deep down into the cracks like they could with other types of flooring – meaning epoxy can look cleaner longer. Combined with epoxy's varied color options and long-lasting durability, it's easy to see why epoxy flooring is booming in popularity.
The dangers of poor maintenance or faulty installation
Epoxy flooring is a popular and effective way to resurface a concrete or garage floor. It protects against degradation, abrasion, stains, and chemical spills, all while maintaining a sleek, aesthetically pleasing design.
Unfortunately, the success of epoxy floors depends largely on the quality of their installation and maintenance. Installing epoxy surfaces poorly can lead to them peeling or cracking within weeks; damaging chemicals can cause epoxy to discolor prematurely; cracks in the concrete beneath epoxy can lead to a wrinkled look that affects performance and longevity; and if dirt accumulates on epoxy flooring, it can cause premature deterioration.
If you want your epoxy floor to perform well and remain resilient for many years, it's necessary that you hire reliable epoxy floor contractors with the proper experience and knowledge for its installation or repair. Taking shortcuts while installing epoxy floors may save money in the short term but could be destructive for your residence or business in the long term.
Frequently Asked Questions
What are epoxy floor coatings and why are they a viable eco-friendly option for auto repair shops?
Epoxy is a resinous material that is used for flooring because of its durability, cost-effectiveness, and environmental impact.
They are a durable, eco-friendly option for garage flooring. The wide array of options allows you to opt for something that offers more endurance like solvent-based coatings, or choose a less glossy yet extremely eco-friendly option like water-based coatings.
How do epoxy floor coatings compare to other flooring options regarding environmental impact and cost-effectiveness?
How do epoxy floor coatings compare to other flooring options regarding environmental impact and cost-effectiveness?
What are the benefits of using epoxy floor coatings in an auto repair shop setting from an environmental standpoint?
Epoxy is made from petroleum materials and is an organic option. It's heat-resistant and chemically inert, so it will not react in case of oil spills. It's safe and eco-friendly at the same time.
Are there any potential drawbacks to using epoxy floor coatings in an auto repair shop setting from an environmental standpoint?
If you choose epoxy flooring, make sure that you maintain it with the help of a professional. You should also dispose of them properly. Epoxy isn't hazardous so it can be disposed of with other waste, but it cannot be put down the drain.